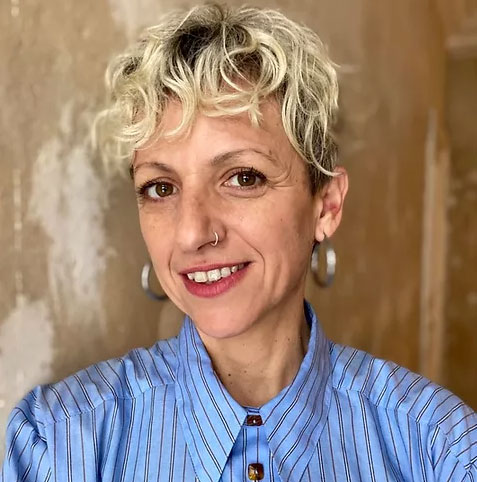 Litsa Kiousi is a choreographer, dancer, and performer creating work for small groups, solos, installations, and laboratories. The human body is at the centre of her artistic practice and as a social being she creates spaces charged with questions, disturbances, confrontations and failures.
Interdisciplinary collaborations are of fundamental importance, it's a form of collective intelligence not be reduced to a kind of accompaniment but rather as a challenging force. Different approaches, aesthetics, social, political and cultural backgrounds have a place, are discussed, collide and challenge each other in order to come together, collapse momentarily or fall apart.
Her current project "An Empire" is a collaboration with visual artist Richard Hancock (UK/DE). Departing from European identity and its complexities, the artists endeavour to explore the histories, atrocities, presents and futures of empire building. Together they ask how these practices may be identified, articulated, subverted and resisted. It is an urgent enquiry into the future of a world balancing on a dangerous brink of repetition.
Litsa Kiousi was born and raised in Athens where she received her BA in dance. In 2000, she moved to New York as a scholar at the Merce Cunningham Studio. Since 2003, she is based in Berlin and has been engaged as a freelance dancer and performer in productions and events of various artists, such as Sven Seeger, Guillermo Gómez Peña/La Pocha Nostra, Luise Wagner, LaborGras, Chantal Yzermans/Radical Low, Cosmin Manolescu, unitedOFFproduction, Veronika Riz, Camille Mutel a.o.
Her own choreographic work There's been trouble in paradise, Where is the most beautiful funeral?, Dream Inspector, and watching alice, has been performed in clubs, galleries and theatres such as Rebound club (Athens), Temporary Home- Documenta 12 (Kassel), Brotfabrik, Schwelle7, Panke (Berlin), Schaubühne Lindenfels (Leipzig), Eira33 (Lisbon), 638 Kilo Tanz und weitere Delikatessen Festival (Essen ), Off-limits Festival (Dortmund), and Slim Week – A Multidisciplinary Music & Art Event (Berlin). The live installation, Visiting Time, has been presented at Weiße Würfel gallery in Leipzig, Panke Berlin, Henrys Dream Festival in Roskilde and Berlin Soup Art Festival in Copenhagen. Visiting Time(s), a series of curated performative events with visual artist Richard Hancock (hancock&kelly) and musicians Jochen Arbeit (Einstürzende Neubauten) and Hopek Quirin, was presented at Panke Berlin.
Recently she released the spoken word & noise album "there's been trouble in paradise".
She teaches regularly classes and workshops on movement, improvisation and composition at dance schools and universities across Europe.